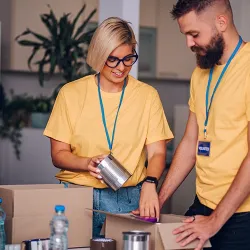 At UAACOG, our mission to serve the Upper Arkansas region wouldn't be possible without the support and dedication of volunteers like you. Whether you're looking to give back, gain experience, or simply want to be part of something bigger, we welcome you with open arms. Here are some opportunities where you can make a difference:
Administrative Assistants
Help our team stay organized and efficient. As an administrative assistant, you'll provide vital support that keeps our operations running smoothly. Tasks might include data entry, scheduling, answering phone calls, and general office duties.
Fundraisers
If you're passionate about our cause and enjoy bringing people together, consider joining us as a fundraiser. Help organize events, campaigns, and other initiatives to generate the funds we need to continue our vital work.
Interns
Looking for hands-on experience in community development and outreach? Intern with us! You'll get a front-row seat to how we operate and play a pivotal role in our various programs. This is a great opportunity for students or anyone looking to transition into the community service sector.
Special Events
Our special events are key to raising awareness and funds. By volunteering at these events, you'll help ensure they're a success. Tasks can range from event planning and coordination to day-of support like setting up, managing booths, or greeting attendees.
Community Outreach
Become the face of UAACOG in the community. Engage with locals, distribute information about our services, and answer any questions they might have. By doing so, you're helping to ensure that everyone knows where to turn when they need support.
Ready to get started? Click the button below to join our team of passionate volunteers.
Note: All volunteers are required to undergo a simple screening process to ensure the safety and well-being of everyone involved.