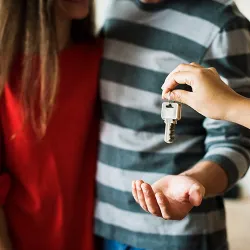 Securing a comfortable, safe, and affordable home is foundational to the well-being and prosperity of every individual and family. Understanding the myriad challenges many face in achieving this, UAACOG has established a comprehensive suite of housing programs tailored to meet diverse needs.
Whether you're seeking to renovate your current home, find rental assistance, or take the first step towards homeownership, our programs are designed to guide and support you at every stage of your housing journey.
Home Repair
This program provides affordable loans for low-income homeowners living in Chaffee, Custer, Fremont, Lake, Park, and Teller Counties.  The loans are provided to repair owner-occupied homes.  UAACOG partners with the Colorado Division of Housing to provide assistance to homeowners.  Types of housing problems we can help with:
Leaking roof
Electrical and heating systems and energy efficiency upgrades
Plumbing systems including leaking water lines and septic
Interior issues including sagging floors and cracking or peeling paint
Fire mitigation
Crumbling foundation/Exterior/Interior deterioration
Handicapped accessibility
Other safety concerns
Housing Choice Voucher Program
Offers rental assistance for qualified individuals in Chaffee, Custer, Fremont, Huerfano, Lake, Park, and Teller Counties.
Housing Navigation
Our Housing Navigator program is designed to help those who are currently or imminently about to experience homelessness. Our Housing Navigator will work with individuals through the application process, partner with landlords to ensure a good fit and relationship between landlord and tenant, and help you overcome some systemic barriers to housing.
Housing and Financial Counseling Programs
UAACOG is a U.S. Department of Housing and Urban Development (HUD) Approved Housing Counseling Agency offering counseling and education in the following areas:
Pre-Purchase (Homebuyer) Counseling and Education
Post-Purchase (Homeowner) Counseling
ID Theft Prevention and Recovery Counseling and Education
Foreclosure Prevention Counseling
Credit/Budget (Financial) Counseling and Education
The Housing Counseling Program services are offered throughout the state of Colorado. Please click on the links below for additional information on housing counseling and becoming a homeowner.
Self Help Housing
Take your step towards the American Dream of homeownership today! In this program, participants contribute significant "sweat equity" towards the construction of their homes, bringing down development costs and producing a more affordable home.
Each family contributes a minimum number of hours of labor per week towards the homes until all houses in the cohort are done and ready to move in. This program helps make housing affordable. A construction supervisor helps the homeowners with construction guidance and coordinates all aspects of the build.
Call UAACOG and ask to speak to someone in the housing department about the Self-Help Program.