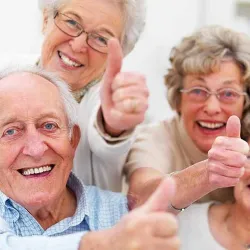 Any person 60 years of age or older, residing in the Colorado counties of Lake, Chaffee, Custer, or Fremont, is eligible to apply for services funded by the Older Americans Act (OAA) and Older Coloradoans State funds. Priority will be given to those of greatest social and economic need.
Mission Statement
The Area Agency on Aging will assist seniors, age 60+, throughout the region in maintaining health, dignity, independence, and quality of life through education, advocacy, coordination, and delivery of services and programs.
Vision Statement 
United together to achieve a better future for our communities & the people we serve.
---
Services Offered
Caregiver Respite
Provides relief to caregivers when the client is in need of a full time caregiver. The client receives 8 hours of respite services per month. The paid rate is $20.00 per hour to the provider. The provider can be an independent person or an agency. Proof of income is needed.
Chore Service
Assistance with repairs and maintenance in your home, including yard work, up to $300.00.
Dental & Vision
Provides $300.00 toward vision or $300.00 toward dental services and can be used with one of our preferred providers.
Durable Medical Equipment
Assistance with the purchase of ramps, hand rails, or anything to make the home handicapped friendly. The voucher is for $200.00, and an estimate of the total cost is needed prior to any assistance.
In-Home Services
Homemaker and/or personal care services for clients with an acute diagnosis and in need of short-term in-home assistance. The paid rate is $20.00 per hour to a preferred provider, for up to 48 hours of services and up to six weeks.
Legal Services
The Area Agency on Aging partners with Colorado Legal Services to provide free legal services for seniors.
Nutrition Counseling
Nutrition Counseling available on a limited basis, provided by a Registered Dietitian.
Ombudsman
Advocacy for residents in nursing facilities and assisted living facilities in our four counties.
Transportation
Assistance with transportation to medical appointments. Mileage is paid to driver of client's choice, up to $200.00. In order to remain in compliance with program requirements, a copy of the driver's insurance and license is needed.
Congregate & Meals on Wheels Program
Congregate Meals are offered in Chaffee, Custer, Lake and Fremont counties. Please call for more information on site locations and meal days. Meals on Wheels delivers meals to clients who are unable to leave their home without assistance.