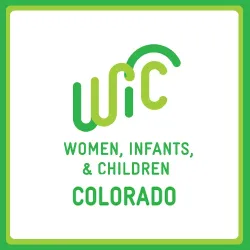 Colorado WIC is here to empower and nourish mothers, infants, and young children up to 5 years old. In order to qualify for the WIC Program, a participant's combined household gross income cannot exceed the WIC Income Eligibility Guidelines (IEG). Rest assured, we value your privacy; your visa status or citizenship details are neither asked nor stored.
Regardless of whether you're expecting, already a parent, a grandparent, or a foster parent, if you qualify, you'll receive customized assistance for your family's unique needs. WIC is not just about food. It's a holistic approach to family wellness. WIC benefits include:
Wholesome Food Selection
Fresh produce.
Dairy products such as milk and cheese.
Essential grains including cereals.
Nutrient-rich items like peanut butter and beans.
Breastfeeding Advocacy
Accurate breastfeeding guidelines.
Access to breast pumps.
Peer support from fellow moms.
Group sessions for breastfeeding moms.
Workshops and resources related to breastfeeding.
Nutritional Guidance
Tailored nutritional advice encompassing topics from meal planning to managing fussy eaters.
Tips for efficient grocery shopping.
Dietary recommendations during pregnancy.
Delicious and kid-approved recipes.
Additional Resources & Referrals
Recommendations for affordable vaccinations.
Access to cost-effective medical, dental, and other essential services.
Guidance for substance and domestic abuse situations.
Links to beneficial social services.
At Colorado WIC, we envision families that are not just healthy, but also joyful and flourishing. Beyond food aid, our mission revolves around education on nutrition, fostering breastfeeding, and equipping you with tools for family wellness. See if your family qualifies for the array of benefits that Colorado WIC offers. Ready to join? Begin your application journey now at Colorado WIC Referral Form.